Taking a stand against gun violence
Thoughts and Prayers are not enough.
We need action
Featured Action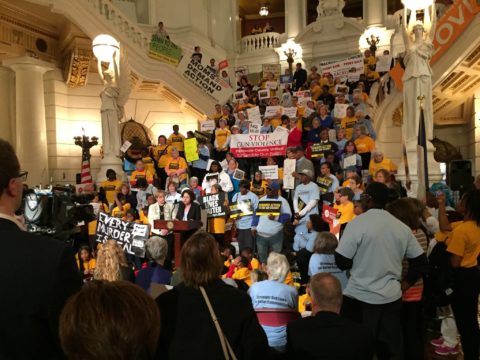 Rally For Action 
Join CeaseFirePA in Harrisburg on January 29th as we rally for action, reminding Pennsylvania lawmakers that we are not satisfied. Click below for more information:
Featured Resource
Lawmaker Rankings
Often people will ask us if their legislator supports or opposes commonsense gun violence prevention policies. We have devised a scoring system designed to give citizens a snapshot of where their elected officials stand. Here are the results.
Find Your State Legislators
See who you need to contact to make your voice heard about common sense gun laws.
CeaseFirePA added 15 new photos — with Diane Saylor Daniels and 2 others in Pittsburgh, Pennsylvania.
8 hours ago
CeaseFirePA
1 day ago
'Star Trek' star George Takei supports Pittsburgh anti-gun effort
A Squirrel Hill man's Facebook fundraiser for anti-gun groups received some star-studded recognition Wednesday from one of social media's most prolific users. George Takei, best known for his role as Hikaru Sulu on the original 'Star Trek' TV show, on Wednesday posted a Tribune-Review story about Ro...
CeaseFirePA
2 days ago