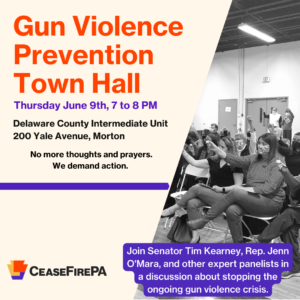 On the heels of the Uvalde massacre, concerned citizens packed the room for a Gun Violence Prevention Town Hall in Delaware County.
"I feel helpless. How can I help?" was one attendee's plea. In the face of mounting public disgust with legislative leaders' refusal to move life-saving bills, citizens wanted to know what actions they could take–and what legislators are doing to protect their lives. 
With the power to move life-saving legislation resting in the hands of just a few, gun safety advocate Senator Tim Kearney said, "I respect and defend our constitution, but the 2nd Amendment is not a blank check. There are fundamental differences between the right to bear arms and citizens having easy access to military-style assault weapons."   
Cheers erupted when U.S. Rep. Mary Gay Scanlon dropped in, just after voting with the House to pass a package of bills that would save countless lives. Now it's up to the U.S. Senate and Senator Pat Toomey to make them law.
"Partnering with Rep. Jenn O'Mara and CeaseFirePA to host this Town Hall was critical to our efforts to push forth meaningful gun safety reform legislation in the Commonwealth," said Sen. Kearney. "Seeing so many concerned citizens turn out for this event gives me hope that collectively, we are moving closer to actionable ways to combat this epidemic."
You can view the recording of this vital conversation at this link.
Do you want a town hall in your district? Send an email to info@ceasefirepa.org with the subject line "Town Hall", and a member of our staff will be in touch.