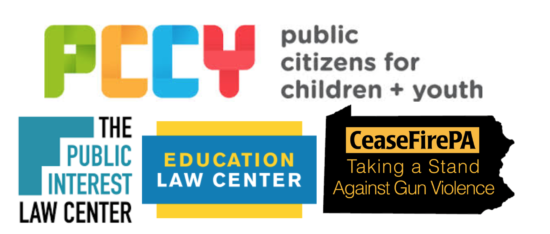 Tamaqua, December 21, 2018 — CeaseFirePA, the Education Law Center, Public Citizens for Children and Youth, and the Public Interest Law Center filed an amicus brief today in support of the Tamaqua Education Association's challenge to the Tamaqua Area School District's new policy to arm teachers and other school personnel.  Amici organizations are focused on ensuring student safety and providing a safe school environment.  We are united in the belief that this misguided and dangerous policy is in violation of Pennsylvania and federal law and will make students, faculty and administrators far less safe.
Teachers, students, and parents in Tamaqua concerned about this new policy have worked to make their voices heard by the Tamaqua Area School District, but the School District has refused to listen to the data, evidence, and opinions presented by those directly affected by this new policy.  This refusal has necessitated litigation to block this illegal and dangerous policy.  The amici organizations have come together to amplify these voices and provide important support for the Tamaqua Education Association.
The Tamaqua Area School District adopted this policy under the guise of promoting safety.  But there is simply no evidence to support that claim.  To the contrary, the data shows that more guns increase the likelihood of gun violence and gun deaths. We will stand with teachers, parents and students to fight this high-risk policy.
Amici are represented by Dechert, a leading global law firm that delivers practical commercial advice on complex matters and transactions with energy, creativity and efficiency.